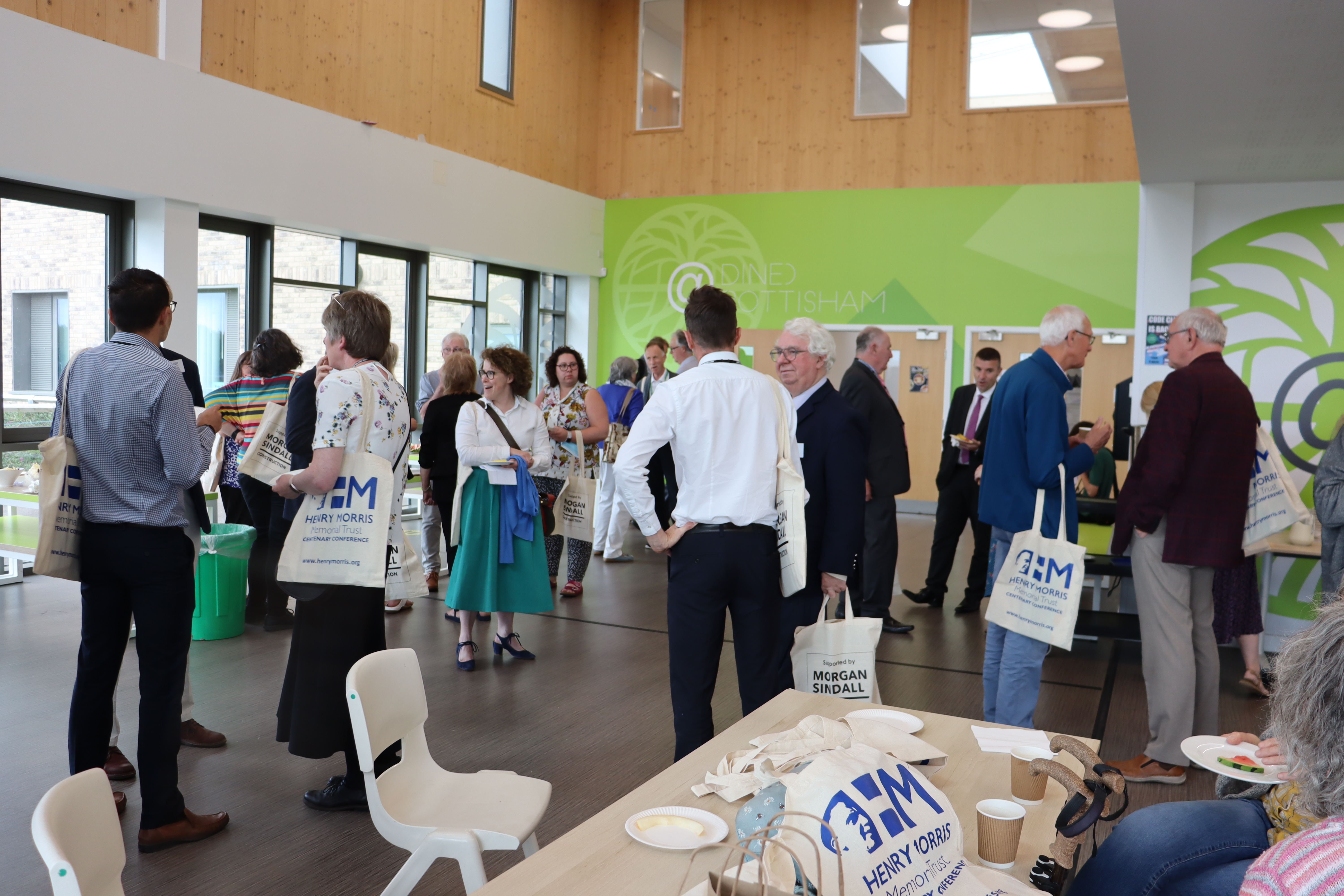 2022 marks 100 years since Henry Morris became Chief Education Officer for Cambridgeshire, and so to mark this occasion the Trust held a conference to bring people together to reflect on his work and values, and to consider the relevance of these for the future.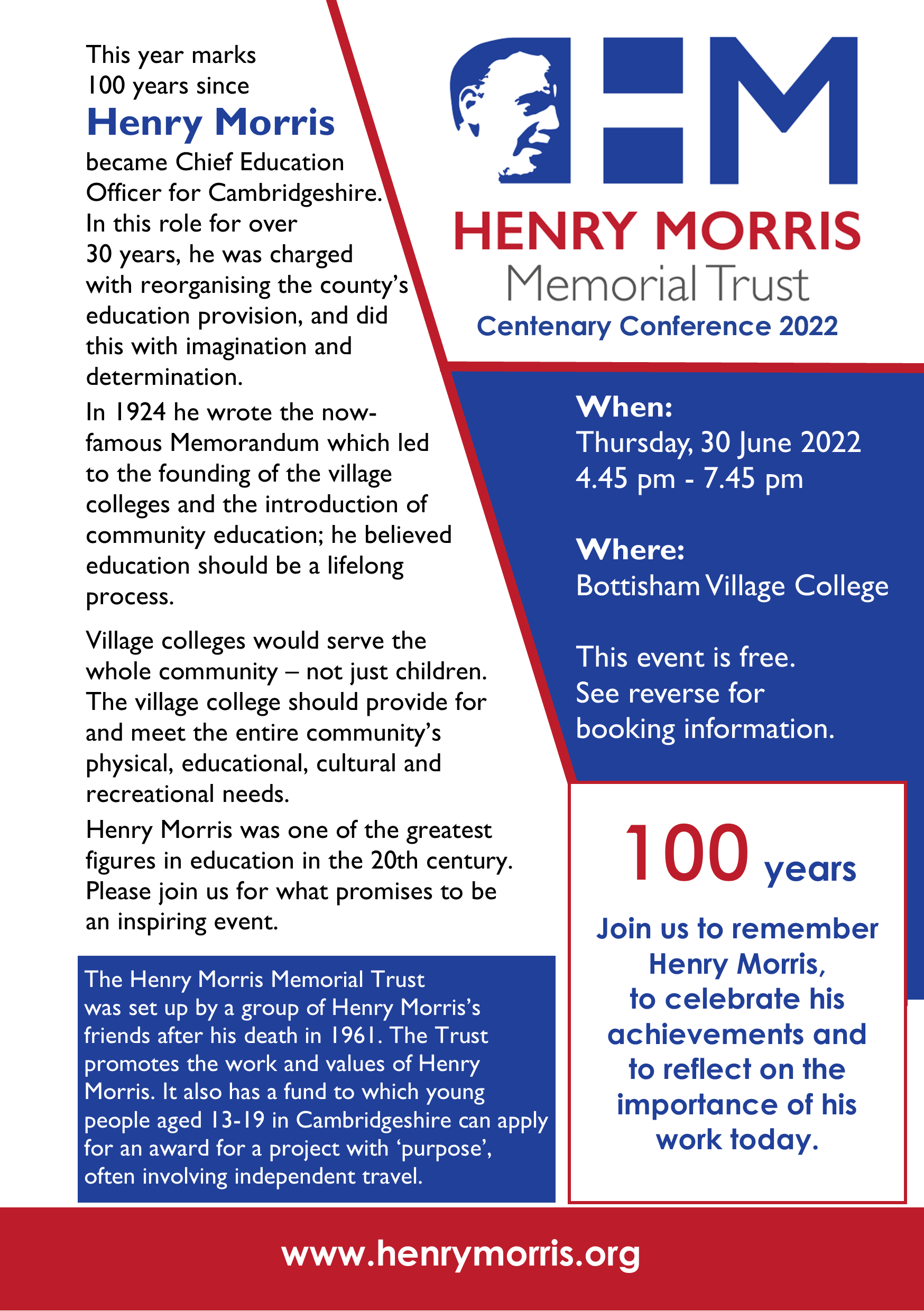 The conference took place at Bottisham Village College on 30 June 2022, 4.45 – 7.45pm.
CONFERENCE PROGRAMME
4.45 – 5.15 pm Arrival: Registration and Refreshments
5.15 – 6.00 pm Presentations 1
Introduction: Peter Hains, Chair, Henry Morris Memorial Trust
Welcome: Jenny Rankine, Principal, Bottisham Village College
Keynote 1: The Henry Morris Story, Neil Hopkins, University of Bedfordshire
6.00 – 7.00 pm Breakout sessions
Delegates had the opportunity to attend one breakout session from the selection here.
Revisiting the value of community education in Henry Morris and the early village college movement: A workshop and discussion led by Tom Woodin (IOE, UCL's Faculty of Education and Society) and Neil Hopkins (University of Bedfordshire) evaluating key elements of Henry Morris's thinking and its implications for community education today.
The Silent Educator: led by John Morgan, Trustee of Anglian Learning, who will discuss Henry Morris's views on architecture, and the subsequent impact on Cambridgeshire school buildings.
Teaching Henry Morris: led by Sarah Jackson, Head of History at Sawston Village College, who will explain how the school teaches students about Henry Morris, and how this course of study has developed.
How community education can be organised and funded in schools today: led by staff from Bottisham and Comberton Village Colleges, who will share information about the practicalities of organising community education provision, including how it is funded.
A Village College Today: led by Andrew Gee, Assistant Head at Bottisham Village College, a History specialist, who will lead a tour around the college, explaining how the site was originally conceived, with community use in mind, and how it has developed since.
Henry Morris in the Archives: led by the Cambridgeshire County Archives, who will explain how the county archives work, with particular reference to items about Henry Morris and Village Colleges. There will then be a chance to examine some of the items relating to Henry Morris.
7.00 – 7.30 pm Presentations 2
Keynote 2: Community Education: Past, Present and Future, Professor Tom Woodin, IOE, UCL's Faculty of Education and Society
Looking to the Future: Jonathan Lewis, Director of Education for Cambridgeshire
Round-up: Peter Hains, Chair, Henry Morris Memorial Trust
PERFORMANCE – NUMINOUS
7.45 pm: Following the final presentations, there was the opportunity to attend a performance of Numinous, a solo performance by Andy O'Hanlon using object theatre to explore the life and thinking of Henry Morris. Find out more about Numinous here.
Conference Sponsor: The conference was sponsored by Morgan Sindall Group PLC.
All delegates were given a free copy of David Rooney's 2013 biography of Henry Morris: Henry Morris: the Cambridgeshire Village Colleges and Community Education.